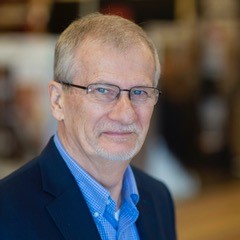 Gary has been married to Jackie since 1976 and has served in full-time pastoral roles since 1989. Prior to that he was a teacher and counselor at a Christian school in Michigan where he and Jackie met. They have two adult children and six grandsons.
He is a gifted speaker and Bible teacher and currently also coaches, consults, speaks, writes and trains leaders. He's been certified by the John Maxwell Team and his website is: www.neverquitclimbing.com
Gary's written five books, two on marriage and parenting, a third on overcoming called Never Quit Climbing and a fourth called NOW: Breaking Free From the Someday Syndrome. He was most recently published in an Amazon Best Seller called The Happiness Code. He's also been published in several national magazines, provides a weekly vlog and has been featured on various national podcasts and television journal programs.
Gary attended Taylor University and has two graduate degrees from Wayne State University and Grace Seminary plus additional Bible and theology classes from Dallas Seminary. He's also a songwriter, singer, keyboardist and avid hiker/climber, having summited nine of Colorado's fourteeners.
Since the early 90's God has opened up numerous opportunities for him and Jackie to serve in Russia training up leaders and helping resource churches there through Russia Worship. His passion continues to be, with Jackie, to share what they've learned in ministry, build up leaders and encourage those who are struggling to wisely overcome their personal and ministry mountains.
Gary's counseling background makes him an insightful listener, helper and coach, having utilized those skills in each of his church ministries. He and Jackie currently live in Brownsburg, Indiana, attend a Christian Church and are the Midwest regional directors for Standing Stone.